Hello Peep's! 😋
For my twitter expert connect list I tried asking a few experts on my subject. The subject I was looking for was on kids with down syndrome and their way of living.
I asked a lot of experts in that subject. However i only got a few answers. The experts/ companies who answered are:
These people relate to my genius hour project because a lot of them are part of associations or are experts/ doctors on down syndrome. Some of them have experienced clients related to down syndrome. And a lot of them know about down syndrome.
Secondly, I needed information for my genius hour project on down syndrom so i asked them a few questions on the subject. In order to do that there is a way to do it. When you want a teacher/company/expert to take it seriously, you have to:
Introduce yourself

Tell them why you are asking them the question

Compliment them

Tell them what your subject is

And thank them
However I realised that it was really difficult to catch the company's attention. So you have to think of a unique way of asking them th question.
Here is what I sent to glhstaffing a hospital center :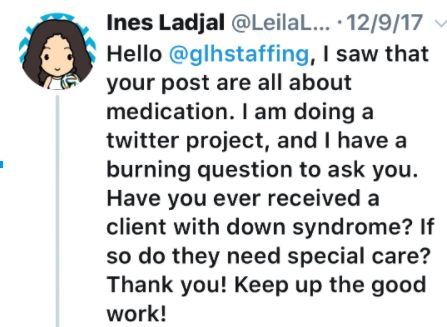 Here is what they responded:
And I thanked them:
The results i got were really helpful because after that they sent me articles to read and answered my questions on twitter messages. Then glstaffing followed me back to continue the conversations .  
This might help me for future assignments at school because i get to ask experts on any subject.  I really enjoyed doing this project because i got to interact with many teachers and experts and i learned a lot about down syndrome.
Thank you!! 🤩